IT'S HERE!!  Tails of the World - The Book is ready for purchase! 
In April 2022, Caitlin McColl of Ragamuffin Photography brought together 65 photographers to photograph 365 dogs in 14 countries.  The resulting book, "Tails of the World - The Book" 2022 is the perfect book for animal lovers all over the globe.  Together, we raised over $22,000 for animal rescue!
100% of the proceeds goes to Second Chance Animal Rescue Inc, to help them in their lifesaving work with pets in need.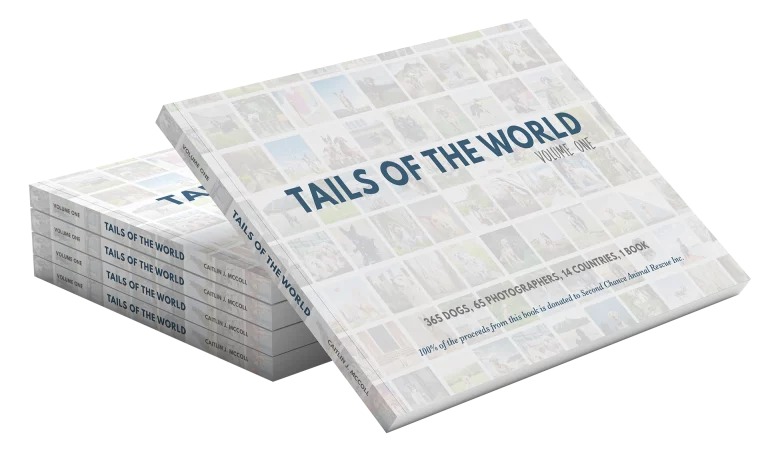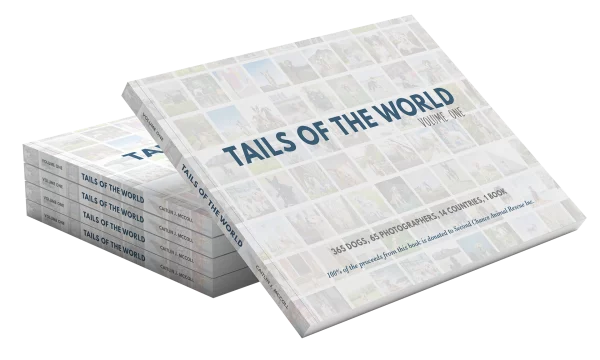 Enjoy Our Contribution to Tails of the World - The Book 2022
Tails of the World - 2022 is a global celebration of dogs, and I was thrilled to be able to contribute!  The logistics were hard because I was already committed to spending most of April 2022 helping a dear friend clean out her storage units in Paso Robles and get the rest of her belongings ready to ship to her new permanent home in South Africa.
I contacted Woods Humane Society fairly late in the process, and they do a much better job than I scheduling their social media posts ahead of time.  Nonetheless, they fit in posts about the event and gave dog parents the option of having studio portraits made at Wood Humane's gorgeous facility in San Luis Obispo, or joining me the following day at Morro Bay's wonderful dog beach.
We raised $600 for Woods Humane Society's mission of animal rescue and met some wonderful new friends!  Here's hoping that we can go back again very soon!
Meet the Dogs of SLO/Morro Bay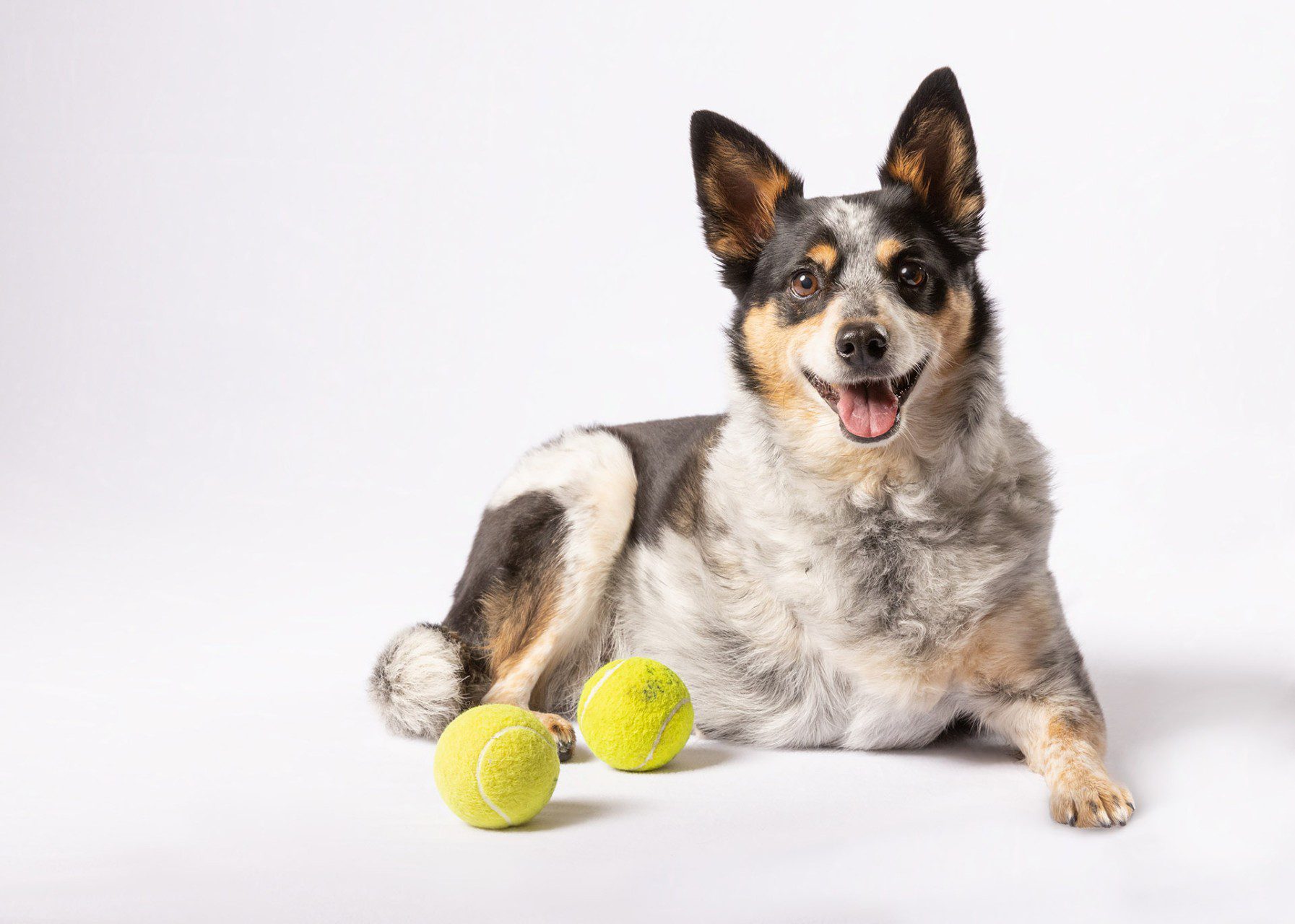 Pismo came for a studio photoshoot at Woods Humane Society.  She is a 7-year-old tri-color Australian Cattle Dog/Australian Shepherd mix.  Pismo is rescue dog from an organization in Colorado. She was found wandering the streets in Garden City, KS as a puppy.  Six months before her session, Pismo was hit by a car driven by someone who was texting while driving.  He drove right up on the curb where Pismo and her family were standing.  She spent 2 weeks in intensive care and ultimately her front leg had to be amputated.  Her mom, Sara, wants everyone to know that specially-abled dogs can lead normal lives.  Pismo still adores chasing her tennis balls!  Sara also wants to raise awareness about the dangers of distracted driving.
I love photographing dogs on the beach, so this was a perfect opportunity to showcase Morro Bay, and its landmarks, Morro Rock and Elephant Rock.  Sudo is a 6-year-old blanket black and tan German Shepherd Dog was equal to the task.  Her mom, Meg, says that she was looking for a high ball-drive GSD or Malinois (Belgian Shepherd) to compete in nosework, as well as live an active pet lifestyle with me going hiking, camping, and other fun outdoor activities. A friend and fellow volunteer at the Thulani Senior German Shepherd Rescue volunteer identified Sudo as a good fit, but Meg wasn't 100% convinced. She agreed to foster Sudo, and a month later, it was obvious she was already home. Sudo demonstrated her amazing hole digging ability for me on the beach. She gets to do it multiple times a week.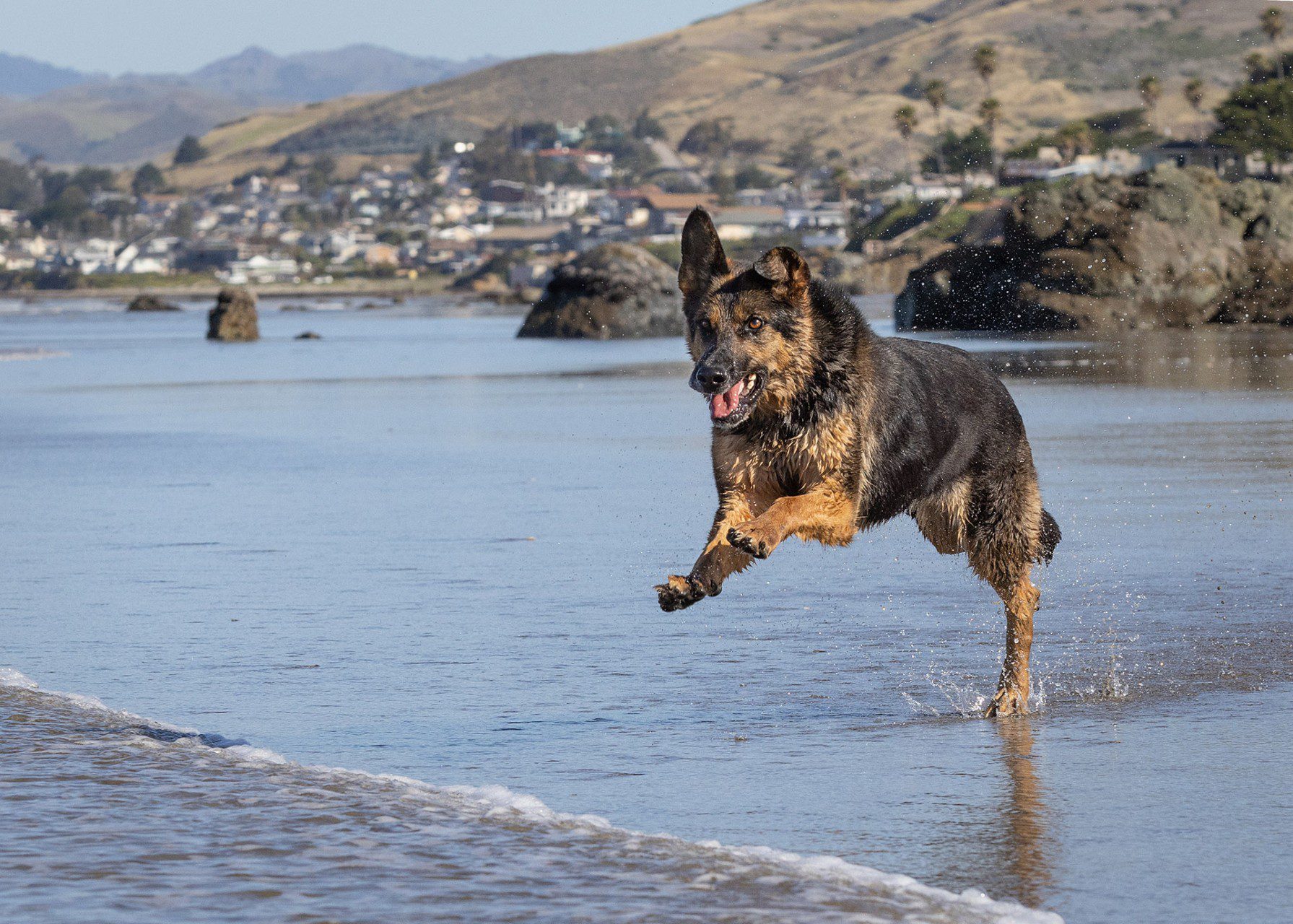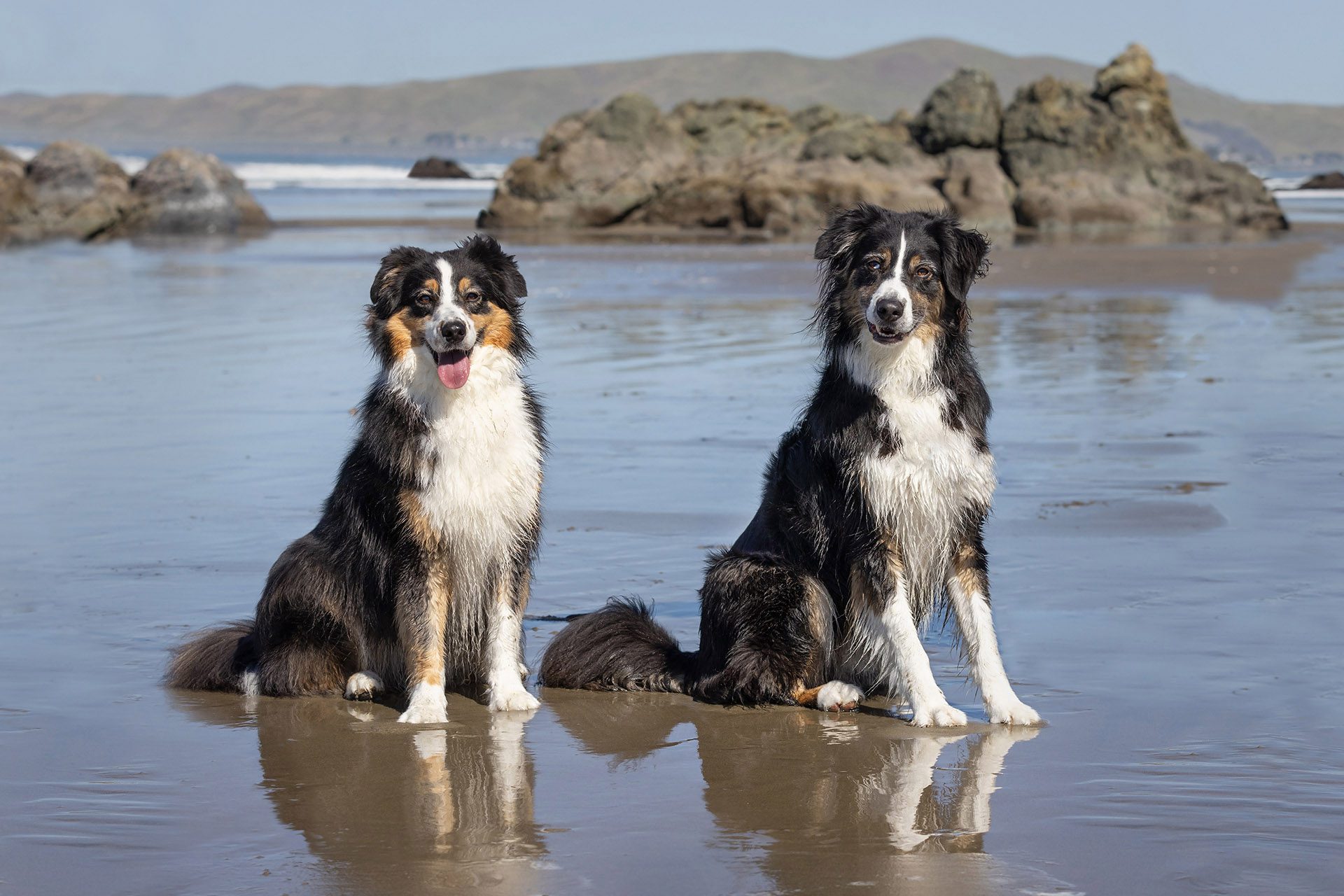 Auggie and Levi are 4-year-old black tri-color Australian Shepherds from San Luis Obispo.  Mom, Susan, says that "Auggie & Levi came to us as 8 week old puppies. We were going to adopt one... but you can see how that turned out!  They are littermates and I was thrilled that they still had their tails...their glorious tails!"
She also says that "our boys are exactly the same (Aussies) and completely opposite (brothers).  They love each other fiercely!  Every day they have special greetings, rough play, and gentle grooming of each other.  Levi is cuddly loving all the time, Auggie is cuddly and loving when he is not making his rounds on self-assigned "guard duty" of our home.  If they are each given a toy, they immediately only want the one the other one has, until they settle on which single toy they will stare at each other over."
Callie is a 4-ear-old Australian Cattle Dog, literally from Australia!
Holly told me "My husband and I were working in rural Australia and a contractor we worked with had a very well-behaved blue heeler, so we asked about her bloodline.  In true friendly and generous Australian fashion, he said the bloodline was his and he had a litter that we could pick from!  She truly picked us though.  Callie was the only pup who hung out with us rather than its littermates."
She continues, "Her preference of people continues. Callie is the friendliest and snuggliest Australian cattle dog you'll meet!  We flew her sixteen+ hours back to the US when we returned - our most treasured souvenir!  Callie didn't miss a beat.  She went from chasing kangaroos to ground squirrels!"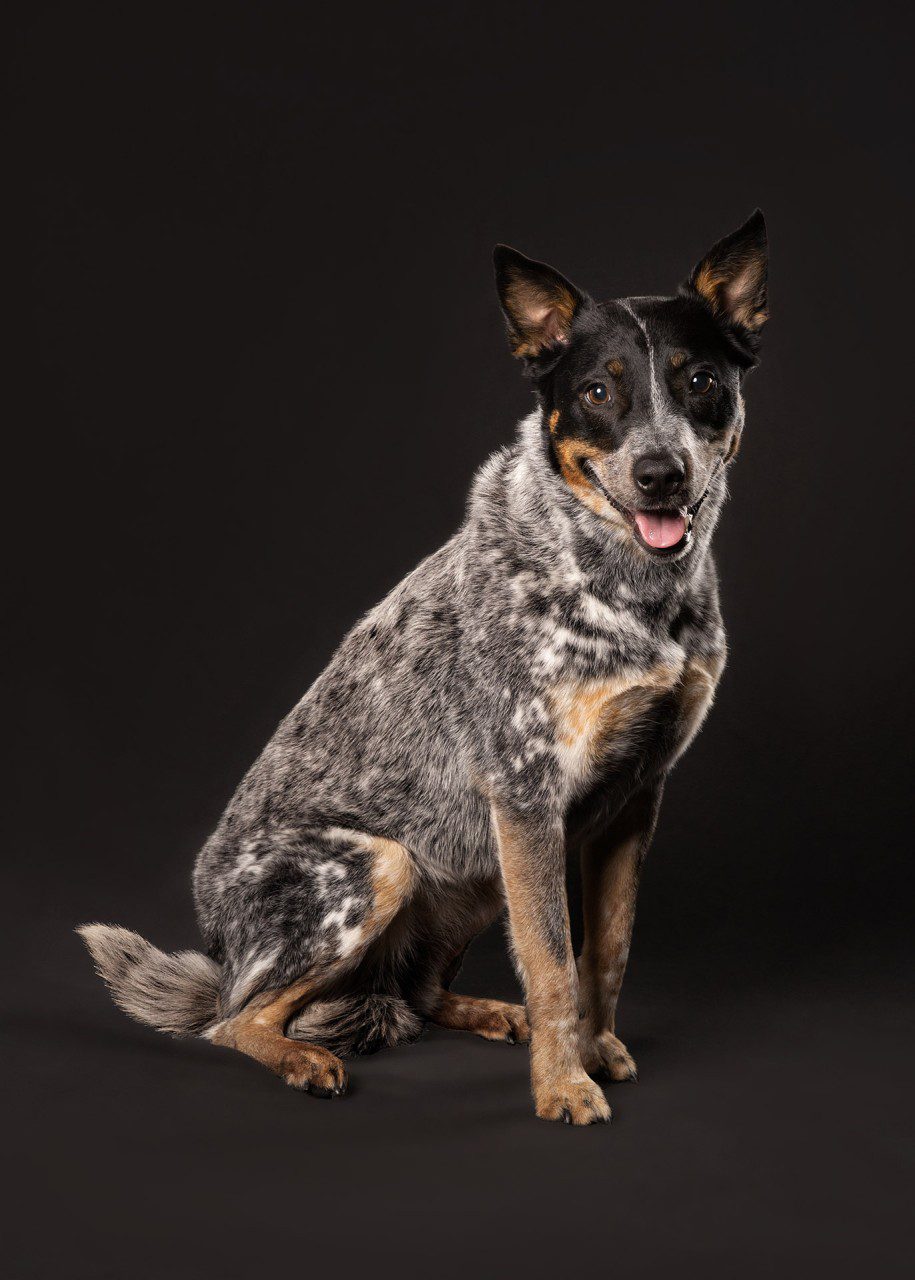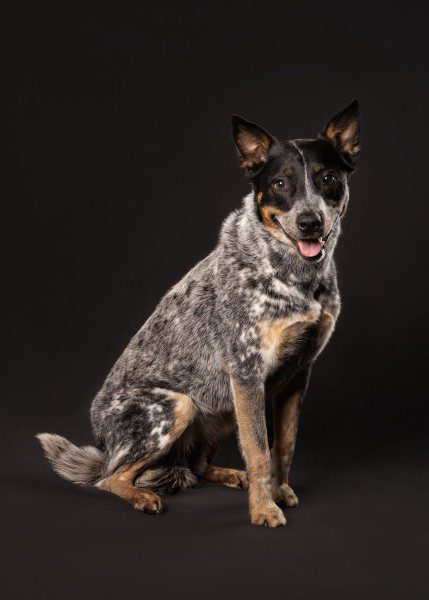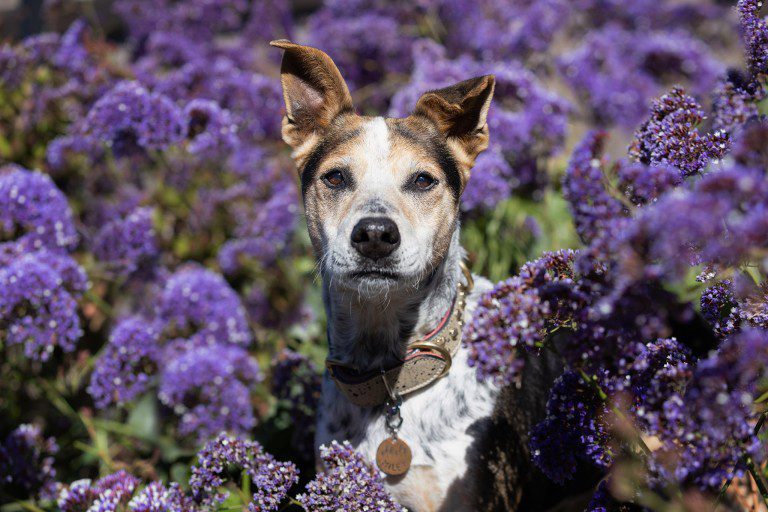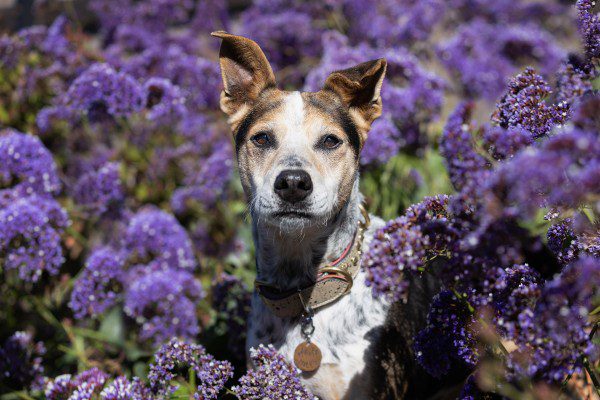 Miley is a black, white & orange 12-year-old Australian Cattle dog mix who is seriously motivated by food.
Mom, Kacey, says "she knows better than to dig through the trash or counter surf (mostly).  A few years ago I took her to the dog beach in Avila with my friend and her dog.  She was being her normal sweet self, wandering around, greeting other dogs and furiously sniffing.  She suddenly caught scent of something and ran toward a spot in the sand.  My friend and I watched in shock and she picked up an entire slice of pizza out of the sand, looked over at us, and gulped the whole thing down in two bites.  I tried to yell for her to drop it, but she's never been one to give up on a tasty snack.  Laughing and yelling I ran to her and a group of people apologized and said it was a slice of their pizza and they didn't think it would get eaten out of the sand.  I couldn't help but laugh, Miley found a great prize on the beach that day."
Millie is a 5 year-old long-haired, dappled, minature Dachshund with blue eyes who loves to ride up and down the California coast in a convertible.
Millie was born on Beaver Island in Lake Michigan. She was part of an "oops" litter between the two family dachshunds. At 8 weeks old, she flew from Michigan to California to live at the beach.  Mom says that Millie "stops people in her tracks.  I not only want to support the cause, I want to get Millie out there so more can enjoy her unique look."
We were lucky enough to have a walkway to the beach lined with purple statice, also known as sea lavender.  Millie just tucked right in for some portraits framed by the gorgeous purple puffs.